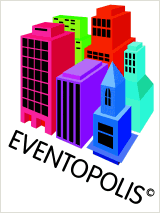 EVENTOPOLIS is an event agency for extraordinary event ideas.
We accompany business events for highend clients since 20 years.

We install the casino team since more than 18 years
in Germany and bordering countries.

From 2020 the MOBILE CASINO HONORABLE can be booked
exclusively from EVENTOPOLIS.

More creative ideas for business events can be seen
at our website
www.eventopolis.de

Have fun while discovering our world of events !