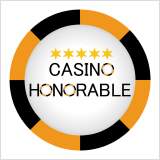 There are several reasons for a MOBILE CASINO as a perfect choice for your event:

1 - NOBLE ATMOSPHERE
Casino gambling tables always care for an uncomparable flair at your location.

2 - MAXIMUM COMMUNICATION
There will be an easy communication as your guests play with and against croupiers
AND other guests - no chance for no contact...

3 - NO FEAR ABOUT MONEY
"Don't be afraid to loose money !!
Your guests will play with individual play money and jetons.

4 - NO DRESS CODE
Don't care about the clothing - "fun while playing" is in the foreground.

5 - RULES
No matter if you know the rules or not.
Our croupiers will explain what you have to know.

6 - OWN DECISION
Your guests decide themselves whether and when they will play.
This causes a maximum of fluctuation during your event.
Normally 95-98% of your guests will play !